Asbury's Worship Arts Program Makes a Big Impact
March 6, 2018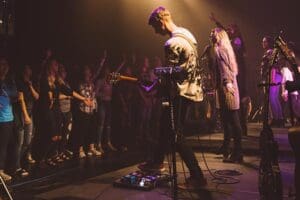 March 06, 2018
"We're all in different places in our lives right now, and in our relationship with Jesus, but He still meets us in every single part of our journey," Worship Arts major Olivia Vinson '19 said.
The Asbury Worship Collective (AWC) is doing big things for Christ across campus and the country. The Collective recorded its third album on Feb. 23, 2018 in front of a live audience in the Greathouse Theatre.
Fittingly entitled "The Journey," the album features 10 tracks which were written by various students within the AWC and range in genre from rap to alternative rock.
Worship Arts students began working on the album a year ago and attended a songwriting retreat last October to draft its track list.
Tom Mangione '19 is a double major in Worship Arts and Media Communication. Mangione wrote several songs on "The Journey," played keys during its live recording and did all of the sound engineering on it. He explained that the AWC encompasses everyone in the Worship Arts program and is the name in which the several bands within the program perform under.
"If you are a part of the Worship Arts major, minor or even if you're just a member of the program, you're considered part of the Collective," Mangione said. "It extends beyond the people you see on album band night, which is pretty cool to me."
While not every student within the AWC played or sang on "The Journey," many were involved in some way, according to Worship Arts major Emily Nelson '20.
"A group of musicians were selected to be part of the album recording but everyone kind of had their hand in [it], whether it was with set design, administration work or prayer team," Nelson said.
The live album recording is just one of the many opportunities Worship Arts students have to learn outside the classroom. Between worship band practices, touring, volunteering at local churches on the worship team or in administrative roles, ministering at youth conferences, leading worship nights, songwriting individually and with others in the major, there's endless room for spiritual and musical growth.
As a junior, Mangione has already received several job offers from local churches pending graduation. He credits his education at Asbury for this.
"People are just really valuing people who know how to do this whole production thing well in worship, but who are also musicians," Mangione said. "that's the kind of skill set the Worship Arts [major] teaches."
While artistry and production value are skills taught within the major, students are, above all else, learning how to channel these skills to point others to Christ.
"Our job is to bring people into the presence of God and get out of the way so they see only the Lord. When we've done that, we've done our job," Vinson said.
Recently, another hands-on, outside-the-classroom opportunity took a group from the AWC abroad.
Five members of the AWC, including Hannah Coleman '19, Bryce Hockema '18, Caleb Watson '19, Grace Wilson '18 and Zander Shores '19 and Worship Arts alumna Abby Hamilton '17 accompanied Dr. Jim Shores and Carol Anderson (performing under Acts of Renewal) as talent on the Familylife Love Like You Mean It Marriage Cruise.
The Christian couples' cruise sailed around Florida, the Dominican Republic and the Bahamas. The group performed in theatre, music and dance acts throughout the week-long cruise and received a standing ovation for a contemporary adaptation of "The Prodigal."
Alongside these transformative learning experiences, Vinson, Mangione and Nelson emphasized the important heart lessons they've been able to learn in the classroom thanks to Worship Arts Program Coordinator Dr. Jon Roller.
"One of the biggest things we talk about is that both pride and insecurity come from when you link your self-worth to what you can or cannot do," said Mangione. "One of the biggest things we stress is that your value is not tied to what you're able to do. It's great if you can make really beautiful music, but your value does not end if you write a song that's not very good."
These are just a few of the amazing opportunities that Worship Arts students have on campus and beyond at Asbury. Learn more about Asbury's Worship Arts major.