Asbury Alums Recognized as Leaders in Education
February 14, 2018
February 14, 2018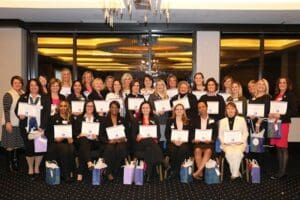 Four Asbury University Education alumni were selected for the first cohort of the Kentucky Women in Education Leadership (KWEL), a leadership development opportunity for female educators in Kentucky.
Rebecca Custis '17, Sarah Hatton '17, Hannah Scott '12 and Christina Boone '16 — all graduates of Asbury's Principal Licensure Program (PLP) — were part of the 30-person cohort selected after a competitive application process. Applicants were chosen based on specific leadership criteria. These leaders, along with 30 of the state's top female executive educators, convened January 19-20 in Louisville for a leadership forum and induction ceremony.
As part of KWEL, Custis, Hatton Scott and Boone benefit from a support system, leadership development opportunities, career advancement, coaching and mentoring and more.
Boone, who completed her undergraduate degree in chemistry, says she was drawn to education through a desire to make a difference. As she considered how many lives she would be able to impact through education, she felt it was a calling — and in Asbury's Principal Licensure Program, she found the tools she needed to become a leader.
"I could write a book on the ways Asbury prepared me to be a leader in education," Boone said. "It built a foundation for servant leadership — every class had that aspect built in."
Asbury's online graduate education programs are designed for the schedules of busy adults, but they still retain the personal touches that make an Asbury education unique.
"It is unlike any other program I've been through," Boone said. "Even though it's online, it's very personal, with face-to-face meetings, and we always started with a devotional. It was by far one of the best experiences I've had."
To learn more about Asbury's Graduate Education Department, visit: asbury.edu/GradEd.