Asbury Cruise Welcomes Alumni and Friends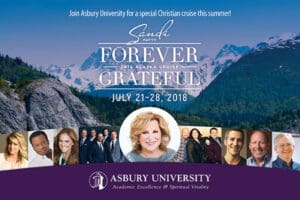 February 2, 2018
WILMORE, Ky. — Asbury University is excited to partner with Inspiration Cruises & Tours on a special cruise to Alaska. All Asbury alumni, parents and friends are invited to enjoy spectacular scenery, music, food and fellowship with fellow Asburians. Special Asbury events will take place throughout the cruise, including fellowship and devotion times with President Sandra C. Gray and other Asburians. Special guests on the cruise include Sandi Patty, Angie Smith, Jim Lyon, Jon Acuff, Larnelle Harris and many more. 
With prices starting at $1,398, the cruise is projected to sell out — so reserve your spot today. During the reservation process, be sure to mention you heard about this cruise from Asbury University. For more information and to book tickets, visit inspirationcruises.com/SPC or call (855) 700-4966.
"This is an outstanding opportunity for Asburians to reconnect with each other and with Asbury's mission while enjoying some of the most beautiful scenery in the world," said Dr. Mark Troyer, vice president for Institutional Advancement and Strategic Partnerships at Asbury. "It will be a time to rest, enjoy great fellowship and pursue an even deeper relationship with God."  
Patty, a Grammy and Dove Award-winning Christian vocal artist, hopes the cruise will be an uplifting and refreshing experience.
"Alaska is vivid; breathtaking; majestic," Patty said in a message from the cruise line. "We're truly blessed to have this great geographical wonder as part of the United States. I can't think of a more exciting place to explore with friends. This is not merely a vacation–it's a fantastic way to see the world and make memories…while hopefully being refreshed and rejuvenated through songs and stories."