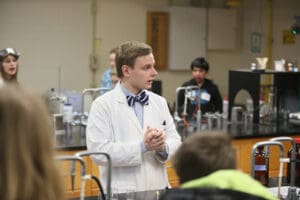 WILMORE, Ky.—Asbury University will partner with the University of Kentucky College of Medicine (UK COM) to launch an Early Assurance Program (EAP), providing top Asbury pre-med students assured admission into UK COM's new Northern Kentucky Campus. 
The EAP was initiated to increase the number of regional students to attend medical school locally. The program will give two of Asbury's strongest sophomore pre-med students a chance at guaranteed seats in UK COM, which would place them ahead of competing applicants. Students chosen will have a strong interest in establishing a medical practice in Northern/North Central Kentucky. 
"The EAP for UKCOM / NKU is an incredible opportunity for a student who wishes to both attend medical school and then practice in the northern/northeastern Kentucky region," said Asbury Professor of Chemistry Dr. Bruce Branan. 
In addition to early acceptance, Asbury students will experience special enrichment activities beginning the summer following acceptance and culminating the following summer, prior to their application to the UK COM-NKY. During this time, Asbury students will be exposed to hospital and office practice by shadowing and mentoring physicians established in Northern Kentucky. Students will also have access to MCAT preparation and targeted research courses.
"This partnership is an outstanding opportunity for Asbury students, as well as an affirmation of the excellent preparation they receive," said Asbury President Sandra C. Gray. "By starting here, Asbury students are equipped to impact the world in a unique way. I look forward to seeing that impact grow as our students engage even more in the medical professions in Kentucky, in the U.S. and around the world."
Eligible students must meet academic requirements that reflect hard work ethic and skill in their field. Applicants will have completed at least 60 credit hours applicable to a degree, either earned or in progress, including: two semesters of major coursework in biological sciences, with laboratories; three semesters of major coursework in chemistry, including organic chemistry, with laboratories; and two semesters of college English and/or communications. A minimum GPA of 3.6 in both science coursework and overall is required as well as an ACT composite score of 26 or higher. 
The Visionary Class of 2020 will be the first students eligible to apply for the program. Halley McClain '20 said the opportunity to apply for the EAP empowers her in her future career as a doctor and she looks forward to how it will benefit the state of Kentucky. 
"No matter what happens, there is an opportunity to succeed, and that would make me more invested in my education," McClain said. "Northern Kentucky has needed a program like this for a long time. I'd love to see success like this in Kentucky, even though I don't live here, because that's what medicine is about. It's a very biblical principal, too, to reach the unreached."