Asbury Theatre Presents "Once in a Blue Moon"
January 04, 2018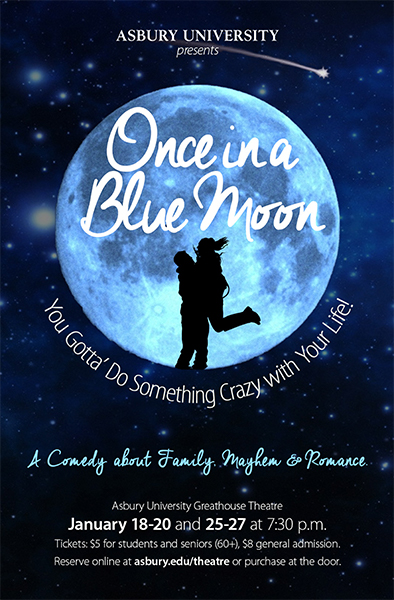 Wilmore, Ky. — "Once in a blue moon, you gotta do something crazy with your life!" It may sound like a New Year's resolution, but it's actually the rallying cry for an upcoming comedy presented by Asbury University's Theatre & Cinema Performance Program.
Directed by Prof. Carol Anderson, "Once in a Blue Moon" will run in Asbury's Greathouse Theatre Jan. 18-20 and 25 -27 at 7:30pm. Tickets are $5 for students and seniors (60+) and $8 for general admission (available for purchase at the door or online.)
The play follows Ethan McCabe, a photographer in New York whose successful, urban life is turned upside down by his match-making Southern grandmother. From Manhattan to Italy to North Carolina, "Once in a Blue Moon" is a reminder that the roots you try to run from can be your biggest blessing.
"My favorite part of playing this role is the cast that I get to work with," said Hannah Coleman '19, who plays a young mother. "The little boy who plays my son is always so full of joy and energy. It inspires me every time I walk on stage! The cast itself feels like a big family so that makes it really easy to get into character, too."
Coleman is one of a group of students who had the opportunity to study abroad at Shakespeare's Globe in London over the summer — just one of many opportunities available to Asbury theatre students.
"The best part of studying theatre at Asbury is by far the experiences available to us as students," Coleman said. "During my time in London, I learned so much about my craft and grew immensely mentally, spiritually and emotionally. I have also had many opportunities to act since I arrived at Asbury that are each unique and rewarding." 
Anderson reiterates the community-building aspect of the production — a characteristic pervading Asbury's Theatre & Cinema Performance Program.
"It's great to work with a talented cast of students from freshmen to seniors who've created such a supportive and enthusiastic community," Anderson said. "They love the play and it shows. It's one of the most enjoyable casts I've ever directed."
The cast includes:  Bryce Hockema '18, Hannah Coleman '19, Brenna Woods '19, Julia Paige Smith '19, Morgan Le Beau '21, Chad Carmac '21, Josh Pelletier '19, Austin Taylor '20, Madison Zinner '20, Leah Hampton '19, and community actor Oren Barker (3rd grade).
To learn more about Asbury's Theatre & Cinema Performance Program, visit: asbury.edu/theatre.