Presidents' Trip to the Holy Land Welcomes Alumni and Friends
June 28, 2019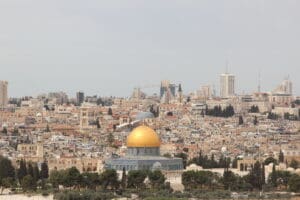 WILMORE, Ky. – Join current Asbury University President Kevin J. Brown and former President Sandra C. Gray on the experience of a lifetime as Asbury partners with Icon Destinations to offer the Presidents' Trip to the Holy Land. Dive deep into the life of Jesus and the heritage of the Christian faith on this amazing guided journey through Israel.
"Throughout history, God has chosen to intervene at specific places and times," Brown said. "The opportunity to inhabit the very setting where Jesus walked, talked and ministered—and to be absorbed in the culture and history of our salvation story—will be a transformative experience."
Running from September 19, 2020 to September 26, 2020, the eight-day trip will stop at sites including Tel Aviv, Caesarea and Megiddo, Tiberias, Nazareth, the Jordan Valley, Jerusalem and Bethlehem.
"It is a welcome opportunity to join with friends in the Holy Land tour," Gray said. "To place our feet on the very land where Jesus walked, taught and poured out His life is a blessed and sacred experience. I encourage you to consider participating with us, whether this would be your first time in 'The Land' or you have been many times – it will bring new understandings of your heritage, having been adopted into the family of God."
The trip is $2,795 (plus airfare). Book now and receive a 10% discount here. Tickets include tourist-class hotel stays, daily buffet breakfasts and six dinners, as well as transfers in a private, first-class air-conditioned motor coach.
A discounted flight from New York's JFK Airport is available. Icon Destinations has partnered with Judah 1 Christian airlines to offer you the chance to fly in private luxury to The Holy Land on a Boeing 767. You have the option to purchase this extraordinary package at a 10% discount. Prices start at $1499. Book this flight here.
During the tour, Asbury alumni and friends will enjoy music from 14-time Dove Award nominee and platinum-selling artist Schultz. Look forward to hearing songs like "He's My Son," "Walking Her Home" and "Letters from War."
"Alumni and friends will discover new treasures of the faith, exploring, together and in personal time, just who this man Jesus is and who we are in Him," Gray said. "You will never be the same – it will be transformative, inspiring and deeply humbling to walk where Jesus walked and feel His presence there."
The tour will also stop at awe-inspiring UNESCO World Heritage Sites such as Baha, Biblical Tells, Church of the Nativity and the Pilgrimage Route, Masada, the Old City of Jerusalem and the White City of Tel Aviv.
"What a privilege to be able to visit the places where Jesus walked, to have scriptures come alive by visiting the locations in the Old and New Testament," Dr. Mark Troyer, Vice President for Institutional Advancement & Strategic Partnerships, said. "Alumni and friends can expect great fellowship and rich experiences as they explore together the places they have been reading about their whole lives."
For more information and to book tickets visit www.icondestinations.com or call (800) 679-9201.