Asbury Dedicates First Ignited Building Project
November 14, 2017
WILMORE, Ky. — Asbury University celebrated the completion of Windsor Manor, the first new building funded through "Ignited: The Campaign for Asbury University," during a dedication and consecration ceremony on Oct. 26.
Graciously made possible by a friend of Asbury, Windsor Manor is a guesthouse that expresses and affirms Asbury's commitment to Christ-centered community life. Serving guests by special invitation — in addition to providing space for special meetings, retreats and campus functions — the building is an invaluable addition to Asbury's campus facilities.
During the dedication ceremony, President Sandra C. Gray pointed to the vision of John Wesley Hughes, founder and first president of Asbury, as a guiding legacy of hospitality. From its founding in 1890, Asbury has been a place of welcome for students from all social and financial backgrounds. Also from its earliest days, Asbury admitted women and men alike, a policy that was unusual for its time.
"We understood, from our beginning, that the world is our parish," Gray said. "Today, as the Asbury story continues to unfold, we are here at Windsor Manor, a place that will expand the opportunities for Asbury's mission. It is a place of lodging, but it's also a place for fellowship, meetings, conferences, symposiums, classes — a place for rest, renewal and retreat."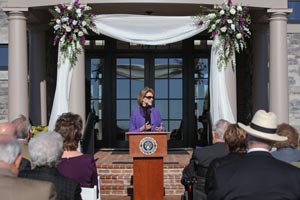 The guesthouse includes a great room, library, sun parlor, kitchen and dining rooms, breakfast nook, business lounge and second–floor observatory. The building also features many architectural details of spiritual significance and it is decorated with generous gifts of historical antiques and art that will inspire conversations about missions, ministry service and travel.
Windsor manor extends hospitality through four Global Guest Suites honoring Asburians who have exemplified the University's mission of world-wide ministry and impact.
The Africa Suite honors the ministry of Dr. George '42 and Willouise Butts '42 Luce, who worked with World Gospel Mission in Burundi, Africa (1948-1953).
The Asia Suite honors Drs. J.B. '55 and Bette Shipps '53 Crouse, whose rich ministry included the presidency of One Mission Society (J.B.) and teaching and leadership at Yonsei University College of Nursing in Seoul (Bette).
The India Suite honors E. Stanley Jones, class of 1907, who served as a missionary to India and was internationally recognized as a champion of reconciliation through Christ.
The South America Suite honors the ministry of Harold and Margaret Round '42 Brabon, who served with One Mission Society in Ecuador and Colombia for more than 50 years.
In addition to global ministry, Windsor Manor has yet another significant connection to Asbury's heritage — it's built on land that formerly served as Asbury's Talbott Farm. Launched in 1937, the Talbott Farm provided beef, pork, fruits, vegetables and grains for Asbury's campus, and it provided employment for a group of students — including Dr. William E. Roughton '45, Rev. Dr. Jiles E. Kirkland '50 and others — who became known as the "Farm Boys." Windsor Manor continues a long tradition of hospitality and will welcome every guest with the love of Jesus.
During the ceremony, the dedication blessing was given by Rev. Daryl Diddle, senior pastor at Wilmore Free Methodist Church. For Diddle, Windsor Manor is an architectural portrait of Asbury's mission and aspirations.
"This house speaks of hospitality, beauty, careful planning, attention to even the smallest of details, hard work, order, personal sacrifice, warmth, generosity and graciousness," Diddle said. "And yet, there is a thread here that holds all of these values together — a thread one might miss if one looks upon this place with only earthly eyes. All of these wonderful values that Asbury treasures, and that are revealed in this building, are not only the very gifts of God to us — even more, they are attributes of God Himself."